Lacoursiere from Peru
Dennis & Ruth Lacoursiere are on day 65 of quarantine in Peru!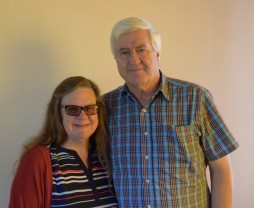 Just like a lot of missionaries, quarantine has affected their ministries! The Lacoursiere's were reminded of Paul's words from Philippians 3:13(b), "But one thing I do: Forgetting what is behind and straining toward what is ahead,". Incredibly powerful in context, the past, present, and future! This verse has a profound lesson for us all during these times of pandemic, uncertainty & imminent change!
So, what does COVID-19 quarantine look like in Peru?
Quarantine in Peru started on March 16th. They were given a stay-at-home order that continues to change. 4 weeks, then 3-week extensions, now they are quarantined in until May 24th (unless it is extended). The stay-at-home order only lets one family member go out to buy food, meds, and banking, when necessary. It is even illegal to take your dog out for a walk, and the curfew is 6 pm!
What Does one do at home in Peru?
For their first week, it was mostly cleaning, catching up on tasks, phoning and coordinating, and encouraging people in both churches, and FB 'WhatsApp' to keep in contact with believers and friends. They still do a lot of that, but one of the problems with quarantine is that most people cannot work!
Feeding the Paruvian People
Because people cannot work, they are desperate for food. Most people in Peru eat from what they earn daily. During the first week of lockdown, Pastor Pedro, from the main church, started buying food and asking for donations.
Missionary friends with similar visions joined forces, and they are on their 7th week of putting food bags together. Each week the numbers go up, they started with 100 and are now up to 830 families.
To distribute the food bags, people must acquire special government passes online for 2, 3, or 4 days. They are not able to meet the needs of everyone but pray God takes what little they have and multiply it.
As the new 'normal' sets in for the Peruvian people, some will have lost jobs or discover their jobs are no longer there, please pray for the Lord's leading. One way to help is to send funds to Christians in Action by check or donate online to Lacousiere, Dennis & Ruth in Peru, South America at cinami.org.